INSIDE TRAVEL
The Real Local Experiences!
Since 2010, travellers from all over the world have trusted INSIDE TRAVEL to fulfil their dreams by delivering outstanding tours which have turned into uncountable memorable moments filled with the real local experiences. We are proud to be the customers' gateway to premier private & tailor-made tours in Asia. You can choose from any of our amazing itineraries or have one of our friendly inside travel experts design an unique tour just for you. We offer great value for money regardless of their budget & guarantee their holiday will surpass the expectations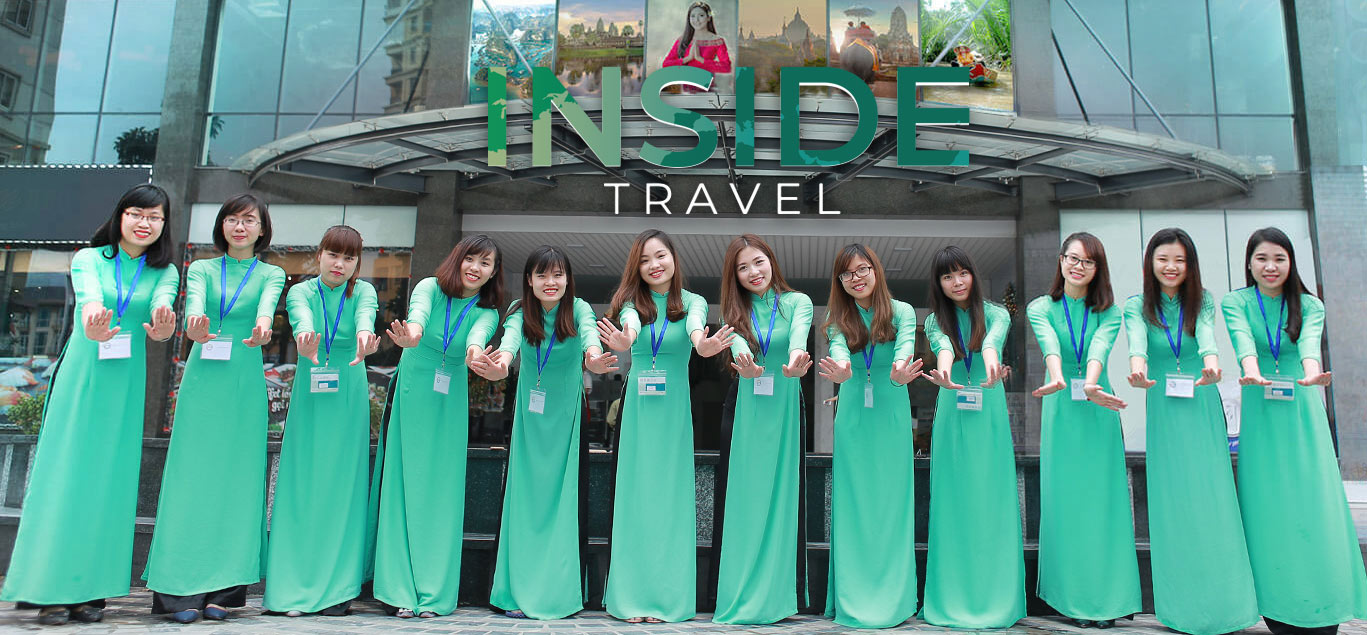 WHO WE ARE
INSIDE TRAVEL is the leading travel company in Asia which have been creating bespoke journeys for over 10 years. With first-hand experience in tourism, we believe that the success of every tour lies in each unforgettable authentic travel experience that goes beyond just the highlights of destinations, getting beneath the skin of each country. Day by day, we always focus on bringing this true nature of its locals to travellers by inspiring & devoting to create the lifetime journey at the excellent standards of services to discover The Real Local Experiences of Asia.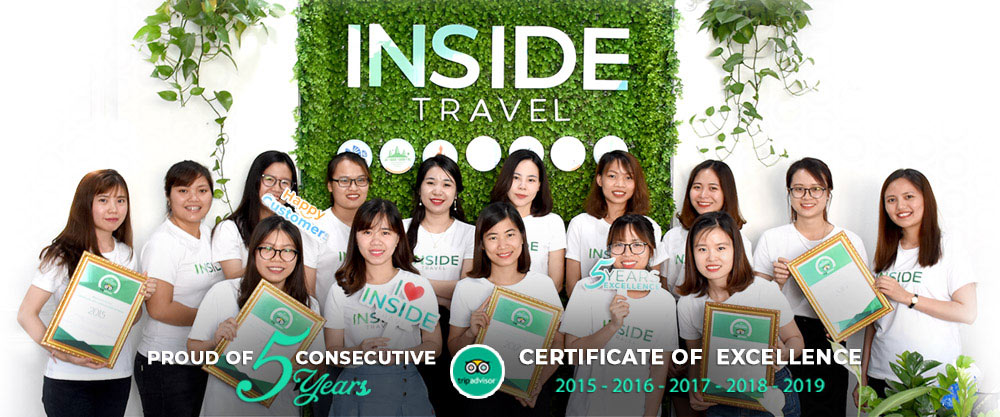 OUR MISSION
Creating travel memories of a lifetime for customers takes enormous different elements, and we completely understand this. With an in-depth understanding of our land & more than 10 years experiences devoting to design remarkable Asia tours, we always endeavour utmost to fulfil our customer's ever-changing needs & wants, and deliver the most unforgettable trip filled with the real local experiences. Moreover, being Earth's most customer-centric tour operator, we are committed to offering competitive value for money travel at the best quality in order to go beyond the customer's expectation
THE TRUSTED COMPANY
INSIDE TRAVEL has been in the tourism industry for over a decade & is well known as one of the most prestigious travel companies in Asia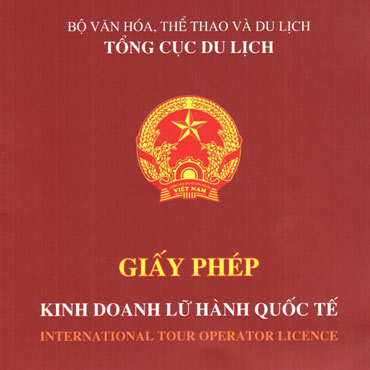 The International Tour Operator License
INSIDE TRAVEL Corporation is one of the highly reputable tour operators in Vietnam & Asia having a fully bonded travel company of a VND500,000,000 (~21,730 USD) deposit in conjunction with a license granted by Vietnam National Administration of Tourism (VNAT) - The government office of tourism of Vietnam. This license is a certification of INSIDE TRAVEL's bond at an approved bank to guarantee financial security in respect of customers' advanced payments as well as the quality of travel services.
View Detail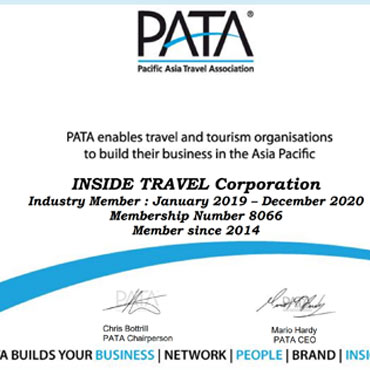 Official member of PATA for 5 consecutive years
With the hoping to share our reliable brand name & services to all of our customers from all over the world, this year INSIDE TRAVEL is pleased to remain as a member of Pacific Asia Travel Association - PATA#8066. Travelling with INSIDE TRAVEL, please be assured that our travel experts will always dedicate to bring you the unique moments, authentic experiences & exotic cuisine.
View Detail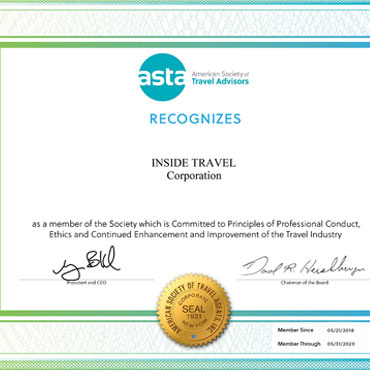 Official member of American Society of Travel Agents
We are deeply delighted to working more closely with the American Society of Travel Agents - ASTA#900260032, to enhance our knowledge & skills to design the incredible itineraries which match the expectation of customers. With the best support from ASTA team, INSIDE TRAVEL promises to always inspire travellers through life-changing travel experiences, make their travel dreams in reality with plenty of unforgettable moments.
View Detail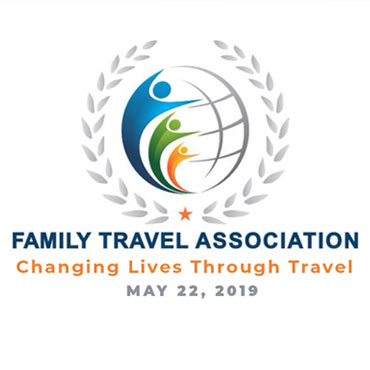 Official member of Family Travel Association
INSIDE TRAVEL is greatly becoming one of FTA's newest travel agencies member - FTA#22519 of this year since this is a great opportunity to get closer to the expectation of families when they travel to another country with the best support from FTA team. Our passion is utilizing extensive local knowledge to bring travelling families all the child-friendly experiences, traditional cuisine, activities & load of authentic local experiences that families can share together.
View Detail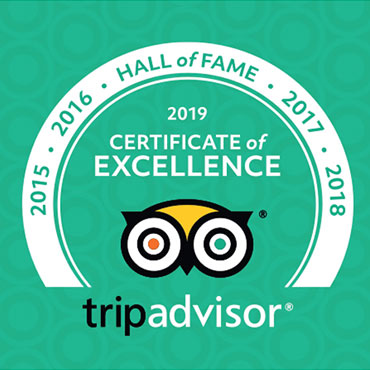 Travelers' Choice Award 2020, for 6 consecutive years by Tripadvisor
Proud to receive the Certificate of Excellence Hall of Fame which was created by TripAdvisor to honour those businesses whose have earned a Certificate of Excellence for 6 consecutive years 2015, 2016, 2017, 2018, 2019 & 2020 Travelers' Choice Award . This is a true source of pride for our team at INSIDE TRAVEL & we'd like to extend our sincere thanks to all of our past customers who have trusted INSIDE TRAVEL to bring them a hassle-free holiday, loaded with authentic local experiences.
View Detail
OUR VALUES
"Being the locals, we know our land the best"
Young, dynamic and experienced human resource
We know that we are living and developing when we...
Be proud of people, because it's our people who make the success of INSIDE TRAVEL.
Be available to listen and satisfy all customers' demands and expectation.
Be friendly and show respect to every customer and teammate.
Be humble to listen and learn from all teammates.
Be ready to give than to receive.
Be in love, because love covers all wrongs.
Be united, because a single bamboo cannot form a row.
Be thankful rather than be critical.
Be active in making decision.
Integrity and Trustworthiness
We know that we are living and developing when we...
Be aware that innovation originates from learning and seeing advice.
Be courageous to break exist precedents toward new, more creative and more effective way.
Be ready to change because we know that yesterday's answers may be inappropriate to today's problems.
Be respectful and admirable toward initiators.
Be determined to achieve goals despite insufficient resources.
Wide variety and flexible services
We know that we are living and developing when we...
Satisfy various demands of customers worldwide.
Make tailor - made tour become our strength.
Informative website systems
We know that we are living and developing when we...
Inform travelers with useful information about destinations and tourism services.
Update information of price, promotion and types of services.
We are giving our best to achieve our goals
We know that we are living and developing when we...
Delicate the best to every footstep with safe, satisfactory, joyful and informative...
To be the most reliable and dynamic tour operator in Asia.
Commit to share profits for community and facilitate tourism in Asia.
WHAT MAKE US SPECIAL
Local & Knowledge
Proud to be indigenous people, we live, breathe & travel in our land. Being local tour operator company working for over 10 years of experience in planning travel, our expert team has an in-depth knowledge of the cultures, land & history of Asia which allows us to take the customers off the beaten path, to explore the culture & get an unforgettable holiday loaded authentic & unique experiences
Authentic & Unique
Being the locals, we know what the best of Asia is. Being passionate travel experts, we create unique experiences you won't find anywhere else. Whether it's putting a twist on the main highlights or creating a special off-the-beaten-track adventure itinerary, we ensure to deliver the meaningful, distinctive, memorable & valuable travel experiences which suit your taste & needs
Private & Flexibility
Private car, Private Guide - They're absolutely flexible to your trip. We're also flexible & know how to make planning easy for you. Whether your travel preference is to travel jungle wilderness, stunning beaches or experience traditional cuisine & visit historic attractions, our passionate & friendly team will always listen & arrange everything as your desire to bring you a perfect trip which will definitely surpass your expectations
Best Value & Best Price
Providing the best value of our customers' spending is our biggest goal. Being Earth's most customer-centric tour operator, we are committed to offering competitive value for money travel at the highest quality to bring the best travel experiences which deserve your paid. We always try to leave a print of outstanding Asia beauty in the mind & soul of the customer as a permanent source of joy
Technology
Technology means a lot in today's travel industry. Thanks to the long-term investment in technology & systems, our expert team can now easily look after all small details in customers' trips & flexible to customize them towards the instant changes during the trip. Our software is always updated all the time & keep up with the continuous development of the travel market to bring better experiences for our customers & partners
OUR SERVICES
Tailor-Made & Quality tours for Group & FIT
Short Tour & Day Excursions
Hotel & Resort reservation
Multi-Country & Overland Tours
Eco-Tours, Educational Tours
Incentive & Special Interest Groups
Honeymoon/Wedding tour packages
Health, Spa & Medical Tours
Visa application services
Private Car & Bus Charter
International & Domestic flight reservation
M.I.C.E (Meeting, Incentive, Convention...)
HOW TO WORK WITH US
1. Send us your request
Please kindly send us whatever about your trip: date, itinerary, destinations or anything you are interested in. We're there to inspire you with ideas on where and when to travel.
2. Discuss your needs
Base on your request, your personal travel expert will send you the best proposal and until it fits your needs.
3. Perfecting your itinerary
We'll build your itinerary from scratch and tweak things until it's completely perfect. You agree to the final proposal and pay a small amount of deposit.
4. The final extras
With the perfect itinerary, we'll start to book every element of your trip: the flights, the hotels and the experiences... If you want to change anything of your trip, we'll continue to be flexible and adjust everything until it's exactly what you want.
5. Enjoy your trip and we are always by your side
All you need to do now is enjoying your trip and you always have our 24/7 hotline support in case you need any urgent assistance. We are local people; we are always here to support you 24/7.
What our customers say
Wow! What a fantastic time our group of 7 family and friends had. Everything was organised well and ran smoothly. For the short time we were there, we had a perfect mix of action, adventure and rest. The lovely Lilly was always checking in and even met us in Hanoi to see how we were going. Can't wait to take more of our friends and family back to the beautiful country Vietnam.
Mrs. Justine Clancy
Australia
Amazing experience, Trang Thu was excellent in organising this superb trip and we enjoyed every moment of it. Would definetly recommend this tour company and the unforgetable experience our family had on this trip. Trang Thus was very helpful and sorted out all our urgent last minute needs so thank you very much for making our holiday amazing! I would definetly recomment you. Halong Bay Signature cruise was out of this world. Thank you for allowing us to celebrate in style my sisters birthday!
We loved our tour, private and well organized. We were able to see many of the beautiful sites efficiently with an English guide. Our guide was flexible when our son needed a change in itinerary for a nap! We loved Vietnam. Inside Travel (Lacey) did a nice job, reasonable too. You will not be disappointed!
Yasmin Orandi
United States
Thanks immensely to Lilly Kao of INSIDE TRAVEL my husband, our two friends and me had a wonderful 3 week trip throughout Vietnam and Siem Reap, Cambodia. From our initial inquiry many months ago through to our return flight home, Lilly's communication was thorough, clear and timely. She put together a very comprehensive itinerary which went so smoothly. It was great to meet Lilly in person when we first arrived in Hanoi which was a nice personal touch to the very professional emails we had had with her leading up to our travels.
I have just finished a 15 day tour of Vietnam , I used INSIDE TRAVEL because of my experience of them four years ago when I visited Myanmar. From my initial contact until the end of the tour they were fantastic to work with. Lacey Bui was my contact and she was professional and a pleasure to deal with. She came up with suggestions around my preferred itinerary and any issues that occurred, she was quick to ensure they didn't impact me negatively. All the hotels and guides she organised for me were brilliant.I would be very happy to recommend INSIDE TRAVEL and I will use them again
Tripadviosr Certificate of Excellence for 5 consecutive years - 2015, 2016, 2017, 2018, 2019 & 2020 Travelers' Choice Award
Read More » TripAdvisor